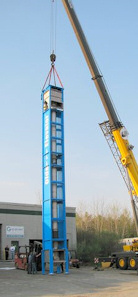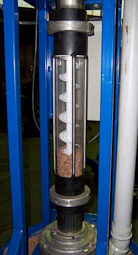 New green and sustainable technology
Integral to the heat plants, the Olds Elevator is superior technology for biomass energy production.
Olds Elevator - New Solutions
Dust emission is virtually eliminated. Any fine particles (dust) are contained in the full-bore mode of flow.
Provides an inherent explosion barrier or choke due to its full-bore mode that will prevent explosions or deflagrations propagating to other parts of the plant.
Unique design avoids the high-risk ignition sources that can occur inside conventional elevators, especially bucket elevators.
Reduces waste
Improves safety
Higher efficiency
Smaller foot print
Simpler
Safer
Healthier workplace environment
Silent
Fewer components
Energy and Resource Conservation with Olds Elevator Technology
Bulk materials move directly from floor level to feed processes - no intermediate screw feeders or storage hoppers needed
Loss-in-weight feeders often eliminated
Outperforms pneumatic systems without costly compressors, blowers, vacuum or dust control equipment
Since only interstitial air is transported during elevation, dust control needs are greatly reduced
Reduced manpower requirements - simple operation
Silent operation obviates noise reduction measures
Wear components are inexpensive, easily accessed and simple to replace
Operates with low amp draw
Space savings calculated in 100s of cubic feet compared with conventional conveyors
"I see the Olds Elevator replacing lots of bucket elevators," - Associate Professor Peter Wypych,
More about Sustainable Design.
Patented worldwide. More Patent Applications and Patents Pending. Enquiries about licencing this new technology are welcome.