Dust Suppression Hopper and the Olds Elevator combine to solve dust problems.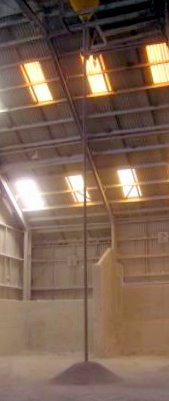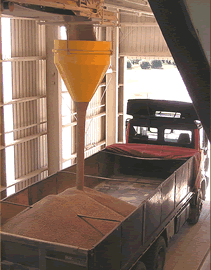 Truck loading at
Ravensdown Fertiliser Napier
The Patented DSH Systems dust suppression hopper allows dry, dusty, granular materials to flow coherently 'en masse' so that dangerous dust emissions are virtually eliminated.
The unique DSH System also offers positive product transfer control, unlike other handling and loading methods which entrain air, resulting in dust particles becoming airborne, leading to expensive problems and environmental and Health and Safety issues.
The DSH System reduces product wastage thus increasing profit margins and can also eliminate the need for more expensive dust control methods. The standard model requires no utilities and has no internal moving parts!
DSH inventor and Director of DSH Systems Pty Ltd, Trevor Schwass said, "This new method opens up many new possibilities because dry, dusty, granular materials can now be loaded and transferred with minimal dust emissions". The DSH System offers plant managers and engineers clear, practical cost savings plus environmental and health and safety benefits. Safety and clean air are priceless and achievable with a cost-effective DSH Systems solution.
We Care about your Air!
For more information or a demonstration of both systems at our engineering and test facilities, please contact us today.
e-mail: dsh@oldselevator.com Web: www.dshsystems.com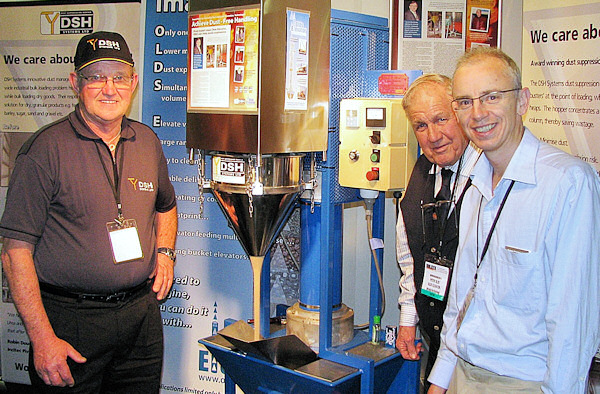 Inventors Trevor Schwass (left) and Peter Olds (center) demonstrate the two systems at Bulkex 2009
to Charles Macdonald, Editor of Australian Bulk Handling Review (ABHR)

Robert Olds of Olds Elevator

Trevor Schwass of DSH Systems
Australian Bulk Handling Awards 2006 Dual Winner of The Innovative Technology Award
Further reading:
Dust Explosions Report
Video excerpt and article from Peter Wypych's presentation at Grain Logistics 2009. Peter Wypych is Associate Professor at the Faculty of Engineering, University of Wollongong.